Do you want long, luxurious hair but don't know how to get it? Clip-in and tape-in hair extensions are two popular options when it comes to achieving your desired look. But what is the difference between them and which one is best for you? This article will explore the advantages of each type of extension so that you can make an informed decision about which option is right for your lifestyle.
Advantages and Disadvantages of Clip-In Extensions
Clip-in extensions offer several advantages and disadvantages for those considering them as an option for their hair. They can be easily installed without the need for professional help, making them a cost-effective choice.
Clip-ins are also versatile, allowing you to customize your look by mixing different lengths or colors in one style. However, clip-ins can be bulky and heavy which may cause discomfort when worn all day long.
Additionally, they may not blend very well with your natural hair if not properly applied and tend to require frequent maintenance due to the clips coming undone over time. Ultimately, it is important to consider your lifestyle when deciding between clip-in vs tape-in extensions as each has its unique benefits and drawbacks that must be weighed before committing to either option.
Advantages and Disadvantages of Tape-In Extensions
Tape-in extensions are a popular choice for hair extensions due to their easy installation and removal process. They can also provide long-lasting results, making them an attractive option for those looking for lengthy styles.
However, there are some downsides to tape-in extensions that should be considered when selecting the right type of hair extension for your lifestyle. Advantages: One of the major benefits of tape-in extensions is their fast installation and removal process.
This makes them ideal if you need quick changes in length and style or want a more temporary look that won't require extensive maintenance over time. Tape-ins also don't cause any damage to natural hair as they attach directly onto small sections without the need for clips or glue which can pull on existing strands or even cause breakage with repeated use.
Tape-ins also tend to blend better than other types of extensions since they attach close to the scalp which helps create a more natural appearance overall. Disadvantages: The major downside of tape-ins is that they typically last anywhere from 4 – 8 weeks before needing adjustment or replacement, so frequent visits back to the salon may be required depending on how often you would like changes made in your look and desired length retention goals.
Additionally, tape-ins have limited versatility when it comes to styling options; these types of hair pieces are usually best suited only for straight styles as curling them could potentially loosen bonds leading to shedding strands prematurely.
Comparing Clip-In vs Tape-In: Which Is Best?
When it comes to choosing the right hair extensions for your lifestyle, there are two main options: clip-in and tape-in. Both have their advantages and disadvantages, so it can be difficult to know which is best for you.
Clip-ins offer an easy way to achieve a new look without having to commit long-term – they're great if you're looking for something quick and temporary. Clip-ins are also relatively inexpensive compared with other options, making them ideal for those on a budget. However, clip-ins can damage your natural hair if not applied properly or removed correctly.
Tape-in extensions provide a more in-depth approach as they require professional installation and removal by a hairstylist; this ensures that your hair is protected from any damage during the process. Tape-ins are generally longer lasting than clip-ins too, meaning that once installed they will last up to eight weeks before needing reapplication or removal – perfect if you want something semi-permanent but don't want the commitment of full sew-ins! The downside of tape-ins is that they tend to be more expensive than clip-in extensions due to the extra labor involved in installation and removal.
In summary, when comparing clip-in vs tape-in hair extensions both have their pros and cons depending on what kind of look youre after and how much maintenance youre willing to commit to – ultimately only you can decide which option is best suited for your lifestyle needs!
Tips for Choosing the Right Hair Extension Style for Your Lifestyle
When it comes to choosing the right hair extensions style for your lifestyle, there are a few things you should consider. Firstly, take into account the amount of time and effort you want to invest in styling your hair.
If you're pressed for time or prefer an easy-to-style look, then clip-in extensions might be the best option for you. Clip-ins require minimal maintenance as they don't need to be installed with any special adhesives or tools and can easily be taken out before bedtime.
On the other hand, tape-in extensions may offer more long-term wear but will require regular visits to a stylist for reapplication every 8 weeks or so—not ideal if youre looking for a low-commitment look! Another important factor is price point; clip-ins tend to cost less than tape-in options due to their quick installation process. However if youre keen on achieving a longer-lasting effect then opting for tape-ins could end up saving money in the long run as they can last up to three times longer when properly cared for compared with clip-ins which usually only last around 4 months maximum before needing replacement.
The texture of your natural hair also plays an important role when selecting an extension style that is suitable for your lifestyle; while both types come in various textures from straight through to curly and wavy, some people find that one works better than another depending on their personal texture preferences. Ultimately it's about finding what feels most comfortable and manageable while still allowing you enough flexibility with styling options – so experiment until you get it just right!
Conclusion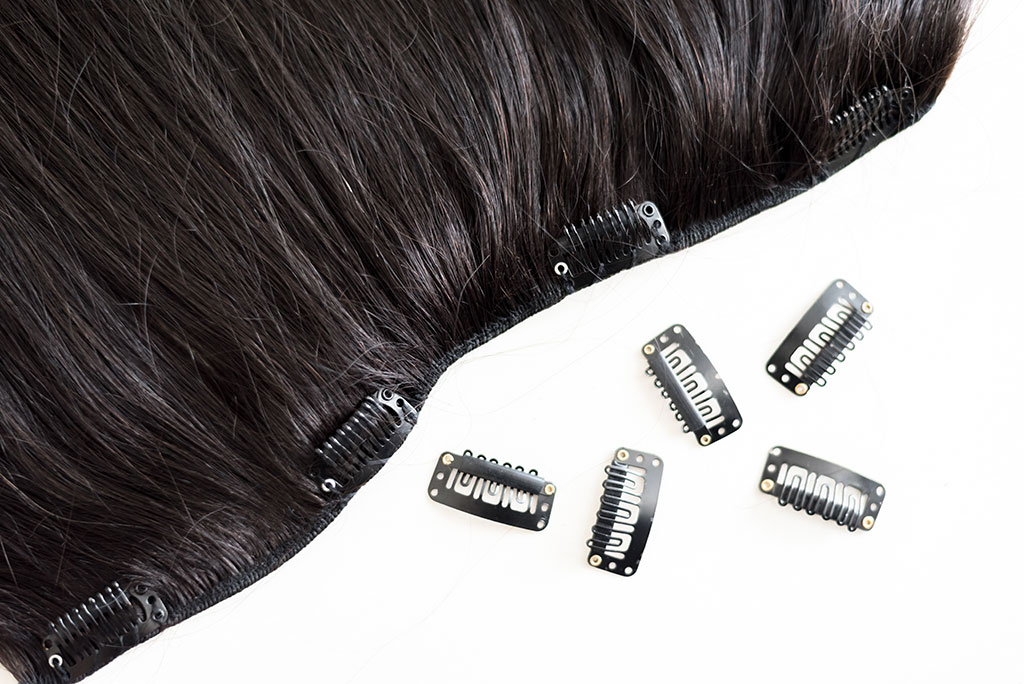 Hair Extensions are a great way to change up your look quickly and easily. With Clip-In Hair Extensions, you can add length and volume without any hassle or commitment.
Tape-In Hair Extensions offer longer-lasting results but require more maintenance. Ultimately, the decision is yours – both options provide an excellent solution for achieving beautiful hair.
Whichever option you choose, make sure it fits into your lifestyle for maximum satisfaction!