Are you a competitive gamer looking to get ahead? Do you want to dominate the virtual battlefield with your superior skills? If so, then Counter-Strike 2 settings is the way forward. In this article we will explore how to optimize your gaming experience and rise above the competition – from choosing the right graphics settings, sound options, and more.
Make sure that your system is at its peak performance levels, and give yourself an edge over other players. With these tips in mind you can be sure of getting ahead in any game of Counter-Strike 2!
Overview of CS2 Settings for Competitive Gaming
Counter-Strike 2 is one of the most popular and widely played competitive gaming titles in the world. As such, it has become commonplace for players to maximize their game settings in order to gain a competitive edge over opponents.
This overview will take a look at the different CS2 settings that can be tweaked in order to achieve an optimal balance between performance and aesthetics during gameplay. Players have access to a wide range of options when tweaking their CS2 settings, from field of view (FOV) and brightness adjustments all the way up to full graphical optimization with anti-aliasing, texture filtering, shaders, lighting effects, post processing filters, among many others.
Knowing which specific setting will make the greatest impact on overall performance or visual appeal requires some experimentation and trial & error as no two gamers' preferences are alike. When it comes down to getting ahead in Counter-Strike 2 matches by optimizing your own settings firstly you need decide what type of gamer you want yourself as; do you prioritize maximum performance or do you prefer higher visual quality?
Once this decision is made then adjust individual values accordingly until desired results are achieved; this could include lowering resolution if aiming for improved frame rate or enabling ultra textures if prioritizing visuals over frames per second.
It's important however not forget about other minor tweaks like increasing mouse sensitivity for more precise movement tracking or adjusting FOV levels so that more information can be seen on screen at any given time. Ultimately there is no single 'right' combination of CS2 Settings but rather each individual needs find out what works best based upon personal preference while still keeping within limits outlined by developer guidelines which normally dictate maximum recommended values across certain categories like draw distance and FPS caps etcetera depending on hardware specifications available on system being used.
With enough knowledge and practice anyone should be able attain perfect balance between graphics & performance thus improving chances success during matchups versus rivals online!
Keybinds and Hotkeys Setup
When it comes to competitive gaming, the keybinds and hotkeys setup can make or break a players success. Finding the optimal configuration is essential for any serious gamer; this includes not just setting up your controls in-game but also configuring your keyboard so you can quickly react to changing conditions on the fly.
The best way to do this is by creating custom profiles that allow you to switch between different control setups depending on what type of game you are playing. This allows players to tailor their configurations based on specific maps and strategies being used in the match, making them better adapted for victory.
It is important that each button has an assigned function quickly accessed with minimal effort, as even a fraction of a second delay could mean losing out on crucial objectives during intense situations. To ensure maximum efficiency and accuracy when performing actions within Counter-Strike 2, it is recommended that all players take time to map out their favorite keys prior to engaging in battle online.
Configuring Crosshair Options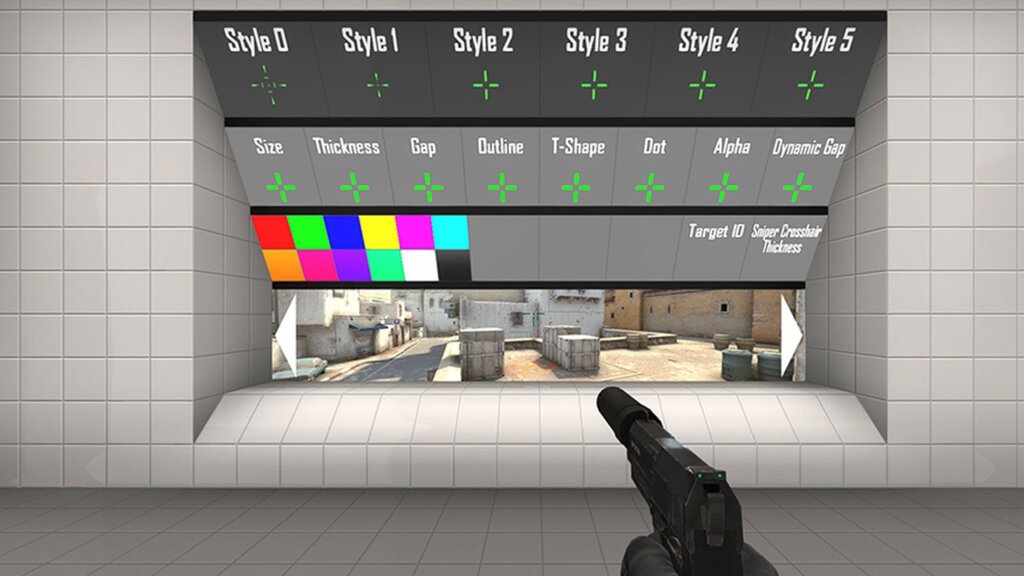 Configuring Crosshair Options is an essential part of optimizing your Counter-Strike 2 settings for competitive gaming. A good starting point is the crosshair style, which will affect how you aim when playing CS2.
There are several different presets available to choose from, including circle, square and diamond shapes as well as various sizes and colors. Youll also be able to customize your crosshairs further by adjusting parameters like gap size and dot size in order to create a unique look that best suits your playstyle.
Additionally, its important to consider the thickness of your lines; thick lines will block more of what youre trying to shoot at while thinner ones will provide more accuracy but with less visibility for enemy targets. Once you have chosen the perfect design for your needs, make sure to try it out in a few practice rounds before engaging in serious competition!
Conclusion
Aleksibs Counter-Strike 2 settings have been a major factor in his success as one of the top competitive gamers. His customised setup has allowed him maximum control and accuracy over his movement, giving him an edge over other players.
With Aleksibs CS2 settings, aspiring gamers can improve their game performance and get ahead of the competition. It is important to remember that these settings may not work for everyone; however, with practice and dedication, they can lead to improved gameplay experience.
By following Aleksibs example, any gamer can gain an advantage and become a better player overall.